Atlanta Jewish and Interfaith Baby naming, baby blessings, and bris (circumcision)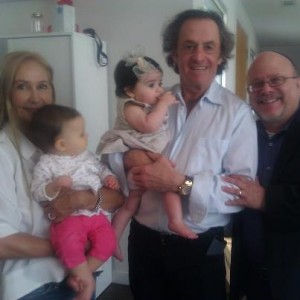 Every child is a blessing and therefore every child deserves a blessing! For centuries all Jewish children have been given a blessing to start them out in life. There are a variety of naming and blessing services that Rabbi Steve Lebow can do for you and your child.
Some people will choose to go the traditional route if they have a boy. Called a "bris", this is the ceremony of circumcision which is usually held on the eighth day after his birth. Typically this can be done at home, in a synagogue, or wherever is most comfortable for you.
When it comes to Atlanta Jewish Baby namings and Jewish baby blessings, Rabbi Lebow does not actually perform the circumcision. He will arrange to get you a mohel (specific kind of Rabbi who does circumcisions) or a doctor of your choosing. At your son's bris, Rabbi Lebow will conduct the prayers and make sure that everyone understands and appreciates the service.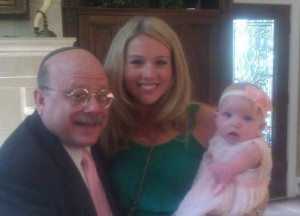 Some families, for whatever reason, choose to not have a bris. Rabbi Lebow can come to the hospital before your child is discharged to do a baby blessing,  or it can be done at any time. Most people try to get their baby a Jewish baby blessing in the first year, but Rabbi Lebow has conducted baby blessings and naming for children up to 12 years old!
Jewish baby blessings for a girl can be done at any time when your daughter is 2 weeks old, 2 months old or 2 years old!
Rabbi Lebow looks forward to serving your family and to giving your child a Jewish or interfaith baby naming service!
"I'm not Jewish and frankly I did not understand the importance of having a bris. Rabbi Lebow totally put me and my non-Jewish side at ease and things could not have gone more smoothly!"
(Ashley B. from a Birmingham Alabama Jewish baby naming)
"We were embarrassed that we had not had a Jewish baby naming for our daughter! Rabbi Lebow helped pick out a Jewish name for our daughter and he met with us several times to talk about what we wanted the ceremony to be about."
(Aaron J., from a South Carolina Jewish baby naming service)
"Rabbi Lebow did our wedding a few years ago and he was the only rabbi we would consider using. His naming service was (appropriately) brief, fun, and spiritual. If you are going to have a Jewish or interfaith baby blessing in Atlanta then Rabbi Lebow is your guy!"
(Jenna D., from an Atlanta Jewish and Interfaith baby naming and blessing)
Save
Save