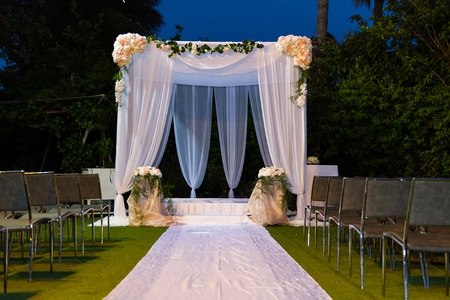 Planning a wedding is all about the details, and when you're planning a Jewish wedding, one important detail you must focus on is creating a wedding worthy chuppah.
The word chuppah is Hebrew for "covering," and in a Jewish wedding ceremony, the chuppah is meant to symbolize the home that the new bride and groom will build together.
If you're planning a Jewish wedding, consider creating a unique, beautiful chuppah for the ceremony that all of your guests will remember.
Circular Chuppah
Although you might feel like a chuppah has to be square, that isn't necessarily true! Many brides and grooms end up going with a circular chuppah for their ceremony instead to create an entirely different atmosphere. With a circular chuppah, you can arrange the seats in a circle around you and your spouse, making the whole ceremony feel more intimate. (A great idea if you are having a smaller wedding!)
Floral Chuppah
You might be thinking about decorating your chuppah, and if you are, our absolute favorite go-to decoration option is fresh flowers! You can decorate the chuppah with a variety of fresh flowers that match your bouquet in order to give the entire wedding a beautiful and romantic vibe. Weaving fresh flowers into the chuppah's frame can help to create a pretty, whimsical look.
Draped Chuppah
If you want to go for a dramatic, show-stopping look, consider hanging curtains or drapes from your chuppah. If you want to create an elegant wedding ceremony, this is the perfect way to do so. You can choose curtains or drapes that will match other portions of your décor but we love the classic white look.
If you're in the midst of planning a Jewish or interfaith wedding and need a wedding officiant, contact Rabbi Lebow.