Welcome everyone to the matrimonial merriment that is Atlanta Jewish & Interfaith Weddings! Powered by the unique and effervescent personality of Rabbi Lebow, we serve Jewish and interfaith weddings of all kinds throughout the Southeast. In this world of growing understanding, we're seeing that love of any kind is the true answer to today's problems. Rabbi Lebow is happy to share that message with any couples who wish to openly express their love and commitment.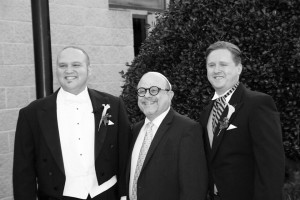 These are interesting times for weddings in this country. Slowly, the walls have been crumbling down and same-sex couples from coast to coast are finally making public the private love they've shared for years, sometimes decades. With the removal of the Defense of Marriage Act, which negated public benefits for same-sex couples, LGBT marriages are a new source of love in our society.
However, some are finding that clearing away one problem has only led to another. In many cases, same-sex couples also happen to be from different faith backgrounds. It is this difference in background that, in a growing number of examples, is starting to pose the biggest obstacle for marriages.
Take for example the story of one female couple from this article published by The New York Times. Together for 30 years, their love withstood decades of moral mishaps in our country's legislation. With same-sex marriage legalized in New York, however, the couple found that their different backgrounds (one Presbyterian, the other Jewish) made it difficult to find proper officiating for the weddings. Some ministers still have issues dealing with love that forms across religious aisles.
There is no reason to keep your love hidden from the world as tolerance for all forms of spiritual and emotional connection is growing in our society. Situated in Atlanta, Rabbi Lebow can contribute to interfaith and same-sex weddings all over the Southeast, including areas of Tennessee, Alabama and South Carolina. If you're planning an interfaith wedding in this area, call him today to take the anxiety out of booking the right minister!