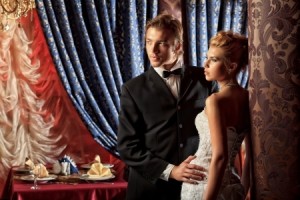 Above all else, a wedding should be a fun time for everyone involved and invited. A marriage is a celebration of love, and that sense of celebrating should be present during every moment of the ceremony and reception. Rabbi Lebow of Atlanta Jewish & Interfaith Weddings knows how to keep the day relaxed, and he loves to see examples of couples across the country taking it easy, sometimes in very goofy ways.
This photo gallery published by The Daily Beast shows some wedding photos from couples who have really let loose, often with a boost from a friend with someone celebrity status. For example, look at the dinosaur disaster photo featuring a tyrannosaurus rex chasing a wedding party that includes none other than Jeff Goldblum, star of Jurassic Park. The bride and groom, friends of Goldblum's, asked if he would take part in the unusual photo shoot, and photos show how into character Goldblum and others got during the experience.
Another photo features that ultimate wedding crasher, Bill Murray. This celeb star of Caddyshack and plenty of other films has made a name for himself in recent years by showing up unannounced to parties and making his presence felt in some unusual ways. In the photo gallery, we can see him getting in on one couple's wedding photos. According to the story, Murray had stumbled into the photo shoot and amused the couple being photographed until the cameraman decided to let Murray join the shot.
It's nice to see big name celebs helping each other on their big day. Look at the photo from Vanessa Carlton's wedding, for example. In it, we can see Stevie Nicks, lead singer of Fleetwood Mac; Nicks was actually on hand to officiate Carlton's wedding.
People are always interested in the activities of celebrities, even if those actions aren't always to be emulated. However, there are plenty of examples of responsible celebrity fun as well, and it's nice to see so many taking an active role in the matrimonial ceremonies of friends. Rabbi Lebow of Atlanta Jewish & Interfaith Weddings will make you and your significant other feel like the celebrities on your day of marriage. Call today if you need someone both professional and relaxed to officiate your wedding.