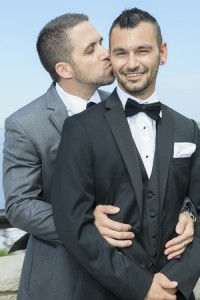 Marriage is all the rage nowadays, the talk on everyone's lips, which is good to see, but some are using it more as a political platform. Trevor Burrus of The Washington Post points this out in his article, "Conservatives say marriage has always been between a man and a woman. They're wrong." Of course, they're wrong, but the article is a stirring reminder of the evolutionary power of what a marriage is, what it should be, and how it windmills love throughout the entire country, from coast to coast.
Burrus writes, "Marriage is a constantly changing social institution that adapts to social and economic conditions. And when those conditions change, marriage changes." Well said! That's the thing that's beautiful about marriage – of course, it's about the love, but its fluidity, its openness to change is a heroic reminder that we as people can change as well. Marriage isn't a mountain, fixed in its shape and location, but rather it's a body of water, moving back and forth, ebbing and flowing.
Atlanta Jewish & Interfaith Weddings stands by Burrus's article – we work with couples of every creed and color, believing marriage to be one of the most beautiful things we can experience in life, and it deserves to be experienced by all people. After all, marriage is sacred, which means it changes throughout time to suit the inherent loveliness and goodness in our hearts. Marriage is about bringing people together, not tearing us apart.
Source: http://www.washingtonpost.com/posteverything/wp/2015/05/13/conservatives-say-marriage-has-always-been-between-a-man-and-a-woman-theyre-wrong/