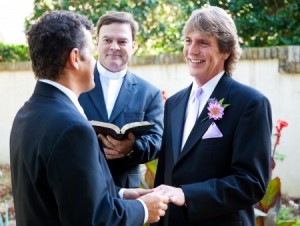 There are many important parts to a wedding, but perhaps none more special or organic than the wedding vows. Yes – the wedding vows, the words expressed between two lovers that encapsulate their relationship – the hopes, the fears, the existential quirks. It's the only moment that both parties can become poets, drilling their words into the air so that they may be remembered for all of their lives. At Atlanta Jewish & Interfaith Weddings, I earnestly believe that wedding vows should be treated with care and patience, like a graduate dissertation. This is your moment in the sun, happy couples, so soak in those rays and transform your feelings into Shakespearean sonnets.
That's how it was for Marshall Cannon of The Huffington Post. He writes, "As we enter into the traditional summer wedding season in the United States, I wanted to share the vows that I wrote and think about how I can continue remember those words in my everyday life." I encourage all of you to read his vows here, as they're truly special and endearing, but what I think is more important is what the vows mean to Marshall – that they're like daily fortune cookies that reminds him of his love for his wife and the appreciation he has for living. Think of your wedding vows as poems, as words that you'll remember every day of your life.
At Atlanta Jewish & Interfaith Weddings, I'd be more than happy to help you compose your wedding vows or offer some suggestions to make them great.
Source: http://www.huffingtonpost.com/marshall-cannon/marriage-vow-to-remember_b_7285706.html