If you've ever been to a Jewish wedding, you probably know that the ceremony culminates with the groom breaking a piece of glass with his foot. It's usually followed by a kiss and lots of cheers from the crowd in attendance. But do you know what the significance of this tradition is?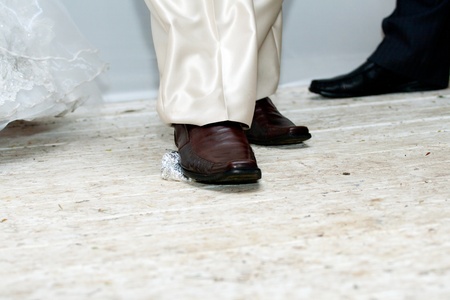 While the breaking of glass at the end of a wedding ceremony might seem like a silly tradition, it actually has a lot of significance in the Jewish faith. Modern couples who are getting married will tell you that the breaking of the glass signifies that they are officially married and their life together has just begun.
However, the story goes much deeper than that. As MyJewishLearning notes, for many Jews, the breaking of the glass symbolizes the fall of the Temple of Jerusalem, which was the beginning of the Jewish people's exile to Babylonia, a fulfillment of prophecy that ultimately strengthened the Jewish faith.
The breaking of the glass also traditionally symbolizes the idea that married life will bring both great joy and difficult sorrow to the couple, but that they will now face those things together. Some say that this tradition also reminds the couple that their marriage is fragile, and should be treated with the utmost care.
When an interfaith couple is married, the breaking of the glass could also symbolize the breaking down of barriers between faiths, and creating a new state of combined faith in marriage, says Interfaith Family. Regardless of any individual couple's faith, once the glass is broken, you'll hear a joyous cry of "Mazel tov!" to celebrate the start of the happy couple's new life together.
Rabbi Steven Lebow at Atlanta Jewish & Interfaith Weddings can help you tie the knot in your own unique wedding ceremony in locations all along the Southeast and Gulf Coast. To learn more about planning your nuptials, call him today at 404-790-8612.