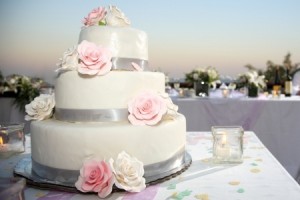 Nowadays the world we live in always seems split down the middle between this camp and that camp – Republicans and Democrats, straight and gay, old and young. We can go on and on when it comes to divisions in America, but here is one division you might not think of: detail-oriented people and the go with the flow people. It does not seem as severe a divide as the other groups we listed, but come wedding planning time, such differences between couples can be disastrous, such as was the case with Keith and Leslie Carpenter in Vancouver, WA, as discussed in this KATU News article.
Cory Marshall writes, "It was supposed to be the wedding they never had; 10 years since their informal ceremony in Reno, Keith and Leslie Carpenter spent the last year tediously planning every wedding detail. In their words, "We planned to have all our friends and family there that never got to do it. You know, this is what happened to me and here's the photo of the cake and how it was represented to me and the rest was history.""
When they got their dream cake, it was far from a dream. It is as if the bakery did not take any of Leslie's specifications into consideration. For a detail-oriented person like Leslie, this was heartbreaking. The entire wedding, in her eyes, was in jeopardy and it was too late along in the process to get the right cake, so the couple begrudgingly accepted the wrong one. Like with any grievances these days, Leslie took to social media to talk about her frustration. Thankfully, another baker stepped up to the plate to recreate Leslie's dream cake. To continue the good news, a photographer volunteered to snap photos of them with it.
While their wedding was missing their dream cake, they got to make up for it. All's well that ends well. If Leslie was so distraught over the details, there was a good possibility she would have cancelled the whole thing. Luckily, for everyone involved, the couple made a mature decision. This is a lesson for all couples planning their wedding: sometimes things do not work out the way you imagine. That should not deter you from the bigger picture.