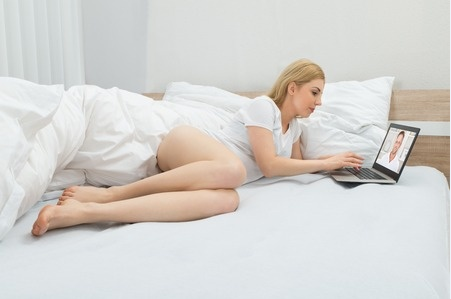 In the digital era, establishing and maintaining long-distance relationships proves extremely common as people meet and fall in love online. Though the idea of a long-distance relationship may seem idealistic or unfathomable at first glance, the technology of today helps these increasing numbers of long-distance relationships grow and thrive.
Whether you already had an established relationship before it became long-distance (for example, if one of you moved away) or you recently met someone online, forming and keeping intimacy in long-distance relationships is truly easier than ever.
Consistent Communication is Key
Talk to your significant other daily through phone calls, texting, emailing, Facebook messaging, etc. In the average relationship, you typically see or speak with your partner every day. However, in a long-distance relationship, the "seeing" aspect disappears, and so when you start skipping days and go without talking, this could feel like commitment to the relationship is lacking.
Simply sending a few texts throughout the day or commitment to a 10-minute daily phone call goes a long way – especially in a long-distance relationship.
Establish and Maintain Trust
Especially because you are not physically around each other, trust is huge in a long-distance relationship and resisting temptations should be high on your priority list. If you chose to engage in a long-distance relationship, it is typically because you feel pretty strongly about your significant other. Having an item that always reminds you of this person can serve as an anchor to keep your focus strong. It may be that your wear your partner's sweatshirt or keep a picture of them in your wallet or purse. Trust takes time, but the quicker and stronger you can build a solid foundation, the better.
Don't Forgo Intimacy
Depending on your relationship, physical intimacy could be extremely important, but you do not have to forgo such intimacy because you are not physically together. Rather, find a way to include intimacy in your relationship in a fun and exciting way you both enjoy. For example, engaging in video calls or sending flirty messages to your partner are two ways to keep the fire burning while you're in different parts of the country (or world).
Start Up Some Couples Activities
Find a TV show you can both enjoy and watch it together via video call or phone call (bonus: if you use Netflix or DVR, time zone differences will not matter). You could also read a book together and chat about it weekly or play board games over a video call. Get creative and come up with some activities you can do as a couple that you would do in person if you could. With the amount of technology available today, nothing is off-limits!
Long-distance relationships take commitment, trust, extra effort and commitment to intimacy. But the most important thing is, when you and your partner really want it to, long-distance relationships can be very successful.
Of course, if you're planning to take your long-distance relationship to the next level, one couples activity could be planning your nuptials. At Atlanta Jewish & Interfaith Weddings, I can help you plan the arrangements and details as your wedding officiant. Call me today at 404-790-8612 to learn more!