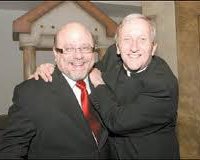 There is one area about weddings that is so often over-looked but just as important when it comes to the planning stages of a wedding. Most people think of finding a wedding officiant as a given. There's always someone out there who will marry two people together, or maybe your aunt's great cousin happens to be certified for officiating weddings. But the process for picking the right wedding priest or rabbi goes a bit further than just expecting to find one. Because you may find one, but they may not be the right one! But what is the right kind of wedding official?
The first key to the right wedding official for you is to find someone you are comfortable with. When shopping around for any official from therapist to rabbi you need to be able to be comfortable with the person you find, and if you aren't then you might want to look for someone else. Keeping the wedding officiant clued into what is going on and what you are looking for with your wedding is a good way to figure out which one might be right for you and how comfortable you are with them.
All it takes is talking about what kind of ceremony language you want to include in your wedding and what you want in your ceremony to determine rather quickly if you've found the right wedding officiant. Sometimes something as simple as changing the words of man and wife to husband and wife could be something a wedding official doesn't want to do. Or you might find a wedding officiant that just wants to talk and they have speeches laid out in between vows that may not be something you want.
Of course, you don't control everything with a wedding official. If you go to a Christian priest, you can't always expect them to agree to the idea of saying a Hebrew prayer during the ceremony. Though it never hurts to ask if that is something you are looking for. Just remember to be respectful and you will be able to find the right wedding officiant for you.